Our Reconciliation Action Plan and the ongoing work of Silverchain, questions how we can make reconciliation part of everything we do in order to create a just, equitable and reconciled nation.
Silverchain Group acknowledges the Traditional Owners of country throughout Australia and recognise their continuing connection to land, waters and culture. We pay our respects to their Elders past, present and emerging.
We are committed to working in partnership with Aboriginal and Torres Strait Islander peoples to enhance understanding among our staff, and to create mutually beneficial opportunities with the communities in which we live and operate.
Our Reconciliation Action Plan
Silverchain Group Limited (Silverchain), has developed a Reconciliation Action Plan (RAP) to formalise our strategy and commitment to reconciliation.
From staff education, promoting through our sphere of influence, reviewing our policies and procedures, and working in partnership with Aboriginal and Torres Strait Islander peoples, stakeholders and organisations, we have identified several initiatives that will be implemented over the duration of the Reflect RAP.
Our Executive RAP Committee, RAP Champions and identified working groups will ensure Silverchain achieves the deliverables both now and into the future. In support of Silverchain's commitment, the Aboriginal Services Policy has been endorsed to ensure inclusive, consistent, equitable and accessible services for Aboriginal and Torres Strait Islander peoples.
This is based upon a comprehensive understanding of and respect for the unique culture, kinship, community, country and leadership that underpins the lives of Aboriginal and Torres Strait Islander peoples, as well as the challenges and barriers they may face in accessing services they need.
Furthermore, a review and update of information in the client 'My Guide', will be undertaken, ensuring Aboriginal and Torres Strait Islander cultural sensitivities have been considered.
In 2017, the Silverchain Group initiated the process of developing its first Reconciliation Action Plan (RAP) and formed an initial RAP Committee, comprising representatives from across the organisation and external community members.
The development of the 2019-2020 Reflect RAP was our first formal step in our reconciliation journey.
Through this RAP, the Silverchain Group achieved the following:
Ongoing commitment from the Silverchain Group Executive to reconciliation and a refreshed RAP
- RAP Champions from the initial RAP Committee driving internal engagement and awareness of the RAP:
RAP Committee members providing ongoing support and advocacy for RAP activities, including representation from external Aboriginal and Torres Strait Islander peoples community members as follows:
- Aboriginal Services Advisor
- Country Regional Manager
- Care Team Leader
- Director Clinical Operations
- Community Manager
- Group Manager, HR Services
- Consumer Advocates - Quality Business Partner
- Consumer Partnership Manager - Registered Nurse
- Consumer Partnership Officer
- Senior Aboriginal Service Consultant
Celebration of National Reconciliation Week
Information about our commitment to reconciliation in the staff induction program
Awareness and promotion of NAIDOC Week, including community events in local areas and RAP Committee Member participation in external events
Raised understanding of the meaning and significance of Acknowledgement of Country and Welcome to Country protocols
Displayed Aboriginal and Torres Strait Islander artwork in locations in Western Australia and South Australia
Displayed Aboriginal and Torres Strait Islander flags at all sites
Reconciliation Australia's Four Core Pillars
Like our first RAP, our 2020-2022 Reflect RAP follows Reconciliation Australia's well-established four core pillars.
RELATIONSHIPS
Through Best Care, Silverchain continues to build relationships that provide inclusive, consistent, equitable and accessible services, by working with our Aboriginal and/or Torres Strait Islander clients, and other relevant organisations.
RESPECT
Through the respectful sharing of Australia's Aboriginal and Torres Strait Islander cultures and heritage, Silverchain support the fostering of a shared national identity on its journey towards reconciliation.
OPPORTUNITIES
Equal participation in a range of life opportunities is crucial for the well-being of all Aboriginal and Torres Strait Islander peoples, which Silverchain can achieve through focus on Suppliers, Partnering and Staff.
GOVERNANCE & REPORTING
Governance is a foundational pillar providing us with a structure and process, as an enabler to RAP implementation.
As described by Reconciliation Australia, our current and previous RAPs are known as 'Reflect RAPs' as they've set out the steps we have and plan to take to prepare our organisation for reconciliation initiatives in successive RAPs. Silverchain's commitment to a second Reflect RAP allows us to spend further time scoping and developing relationships with Aboriginal and Torres Strait Islander stakeholders, deciding on our vision for reconciliation and exploring our sphere of influence, before committing to specific actions or initiatives. As our reconciliation journey progresses, this process helps Silverchain to produce future RAPs that are meaningful, mutually beneficial and sustainable.
Overview of Committees and Working Groups
Executive RAP Committee
The Executive RAP Committee will drive implementation of the Reconciliation Action Plan through specifically tasked working groups and Silverchain teams. With minimum quarterly meetings, the role of the Executive RAP Committee will be to provide oversight and monitor the 2020-2022 RAP, as well as discuss and agree upon solutions in order to maintain progress.
The Executive RAP Committee are providing oversight of the identified actions and deliverables, ensuring these are allocated with specific timelines and action owners (either by position title and/or working group), as these are planned for implementation. This will be monitored within the periodical Executive RAP Committee meetings via agreed action plans.
RAP Champions
The Executive RAP Committee participants will also lead the organisation as RAP Champions, raising the profile of reconciliation as an organisational priority internally and externally. The RAP Champions will lead by example by actioning the commitments in the RAP.
Working Groups
The working groups will be identified through the Executive RAP Committee to deliver on key RAP initiatives within agreed timeframes. Participants may be role or team oriented or grouped by way of skill set to ensure identified RAP initiatives are achieved.
About the artwork
'Seed Pod Dreaming' is part of the artist's Bush Tucker series. After collecting the seed pods, the women would put them in a rag or hessian and place it in the creek or river to wash out the itchy orange fluff from inside. The seeds were then roasted in the campfire to rid them of toxins. Once roasted, they were ground andused in cooking for adding flavour.
---
About the artist
Micky Barlow is a Kokatha woman, Aboriginal contemporary artist and basket weaver.
Micky grew up in the beautiful Clare Valley and currently works from her studio space in the picturesque McLaren Vale wine region. Stylistically, Micky uses traditional dot work in her paintings, incorporating symbols and colours passed down from her grandmother and mother.
Her works include acrylics on canvas, wood burning (or 'Punu' work) on timber and basket weaving using raffia, natural fibres and grasses. Micky's art comes from the heart; she paints her country, family and the issues that impact Aboriginal people and families today.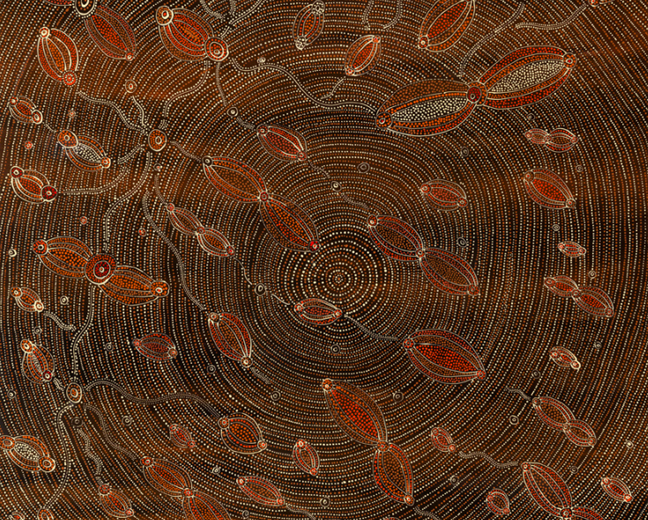 About the artwork
'River of Life' is depicted across two canvasses and is on display in the foyer of our office in Wollongong, New South Wales. The paintings represent our journey of life, from the start through to the end. The pair of hands express the beginning of life; and the concentric circles mark the start of significant times in life. The blue river represents all the directions of life, while the different shapes are the people in our life's journey and our loved ones. Eucalyptus plants represent the healing of the spirit.
---
About the artists
Sisters Lorraine Brown and Narelle Thomas are Yuen/Jerrinjah women who were born in Bega.
Lorraine is the premier artist of the Coomaditchie United Aboriginal Corporation in Wollongong. The sisters have been collaborating on paintings for many years, with Lorraine completing the finer work while Narelle fills in the details, Lorraine's choice of bold colours reflects her coastal upbringing with 'east coast, saltwater people.'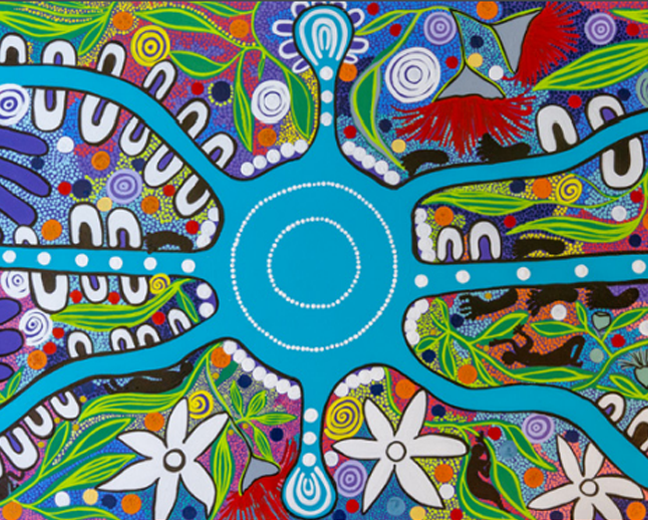 About the artwork
Women's Ceremony is on display in the foyer of our office in Perth, Western Australia. It represents women travelling across the country with traditional iconography. Concentric circles represent sacred women's sites, while the patterns coming from these circles depict the women travelling from sacred site to sacred site. Women's body paint designs and bush tucker often feature throughout the artist's artworks.
---
About the artist
Nellie Marks Nakamarra grew up in Central Australia, as part of a celebrated school of painting developed at Papunya (Northern Territory) in the early 1970s. Nellie's work has a spaciousness that distinguishes her painting style from the traditional paintings of her country. Her art focuses on the music and dance of women and continues the tradition of painting aspects of the desert with ceremonial significance. Nellie's strong aesthetic combines rich and earthy with bright and contemporary colours.